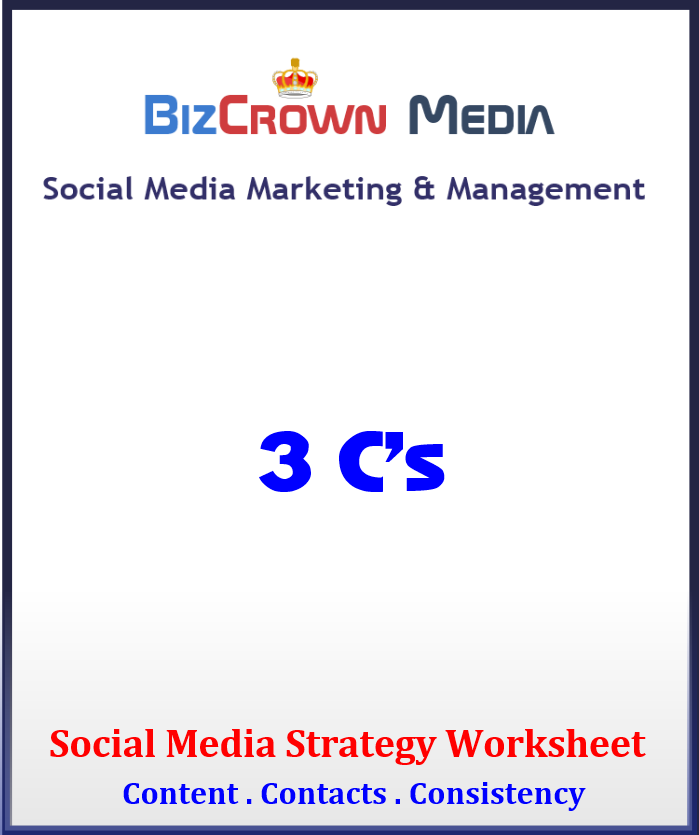 You need a plan for your social media marketing and operations to be effective.
This template is designed to assist you in setting up a social media strategy for your business or organization using the 3 C's

(Content, Contacts and Consistency)

strategy. Research has shown that the 3 C's strategy is effective for social media optimization. Social media optimization helps grow business awareness which helps generate ROI.
By the end of this exercise you will have:
1. A social media strategy that you can use right away to accomplish your business goals and generate ROI
2. An idea of what social media platforms are most effective for your business
3. An idea of what your main sources of business are and how you can market to them using social media
4. A content strategy that enables you to post content that is relevant and goals driven
5. A contacts strategy to help you grow your audience, fans, followers and customers
6. A consistency strategy that enables you to have a structured and effective post schedule
There are 4 worksheets in this template: These worksheets help create your social media strategy
1. Worksheet 1 – Current overview and goals
2. Worksheet 2 – Questions for strategy development
3. Social Media Strategy Sheet (3 C's sheet) – Answer sheet for Worksheet 2
4. Strategy Summary Sheet – Summarizing your social media strategy
Follow the instructions on worksheets 1 and 2. Answers to worksheet 2 are to be filled on the Social Media Strategy Sheet (3 C's sheet) starting on page 7. The Strategy Summary Sheet summarizes and explains the strategy based on your answers.