Why You Need a Content Calendar for Your Social Media Strategy
Why you need a content calendar for your social media strategy 
Many businesses think that just creating a Facebook or Twitter account is enough to create a social media strategy. However, having an account without a plan won't do you much good. Any good strategy comes with a plan, and having a plan is key to success. This is why you need to have a content calendar to map out your posts for the week, month, or even year. This will help ensure that your content is consistent and on-brand, and planning your posts will save you headaches in the long run. In this blog post, we'll discuss why you need a content calendar and how to create one for your business.
What is a content calendar and why do you need one for social media
A content calendar is a tool used by business owners and marketers to organize and schedule their social media posts. It helps you to plan out your daily, weekly, or monthly content and stay on top of your social media strategy. There are many different elements that a content calendar can include, such as a posting schedule, hashtag ideas, types of posts, and when and where to post.
To be effective, a content calendar must be tailored to the unique needs of your business and centered around your social media goals. However, you also want to make sure you're not dwelling on each post every time so you can push out as much content as you can. Whether you are looking to increase brand awareness, engage existing customers, attract new customers, or drive conversions, a content calendar can help you achieve these goals effectively and efficiently.
By making a strategic plan for when to post and what type of content to share, you can better manage the performance of your business's social media presence. This will ultimately save you time and make the planning process easier and less stressful. Having a plan will help prevent repeating content, help you organize what and when you want to post, and allow you to visualize what content you want to create over a longer period of time. And with the right tools and a little bit of forethought, creating a successful content calendar is easier than you might think! 
The benefits of using a content calendar for social media
There are many reasons why you should start using a content calendar for your business. When you start planning your content consistently, you can ensure that your brand voice is consistent across different platforms; you can keep track of monthly trends and topical issues that are relevant to your audience; and you can be sure not to miss any important dates or holidays.  
Having a plan in place ensures that your posts always have a strategic focus, whether you're promoting your products or building brand awareness. In thinking more strategically, your posts will have more purpose, causing them to be more effective, and therefore you will see better results! In addition, a content calendar helps to ensure that you stay consistent with your posting schedule, so that followers always know when to expect new content and don't get overwhelmed by too many updates all at once. By creating the right kind of content for each social platform and staying focused on specific goals for each post, it's easy to reap the benefits of using a content calendar for social media.
Another benefit is that you will save time and take some stress off the process. Instead of stressing over each post you want to create each day, you can take an hour or two once a week to brainstorm ideas and schedule them out. Not only will this save you time, but it can also help you to be more strategic and intentional with your posts. In addition, one of the most important benefits of using a content calendar is that you can hand it over to other staff so they can take over if needed and know exactly what the plan is. This way, everyone working on your strategy will be on the same page and there will be no confusion on what or when to post. As a result, using a content calendar is an incredibly beneficial tool for anyone who wants to streamline their social media activity.  Ultimately, using a content calendar is one of the best ways to optimize your online presence and reach your target audience effectively!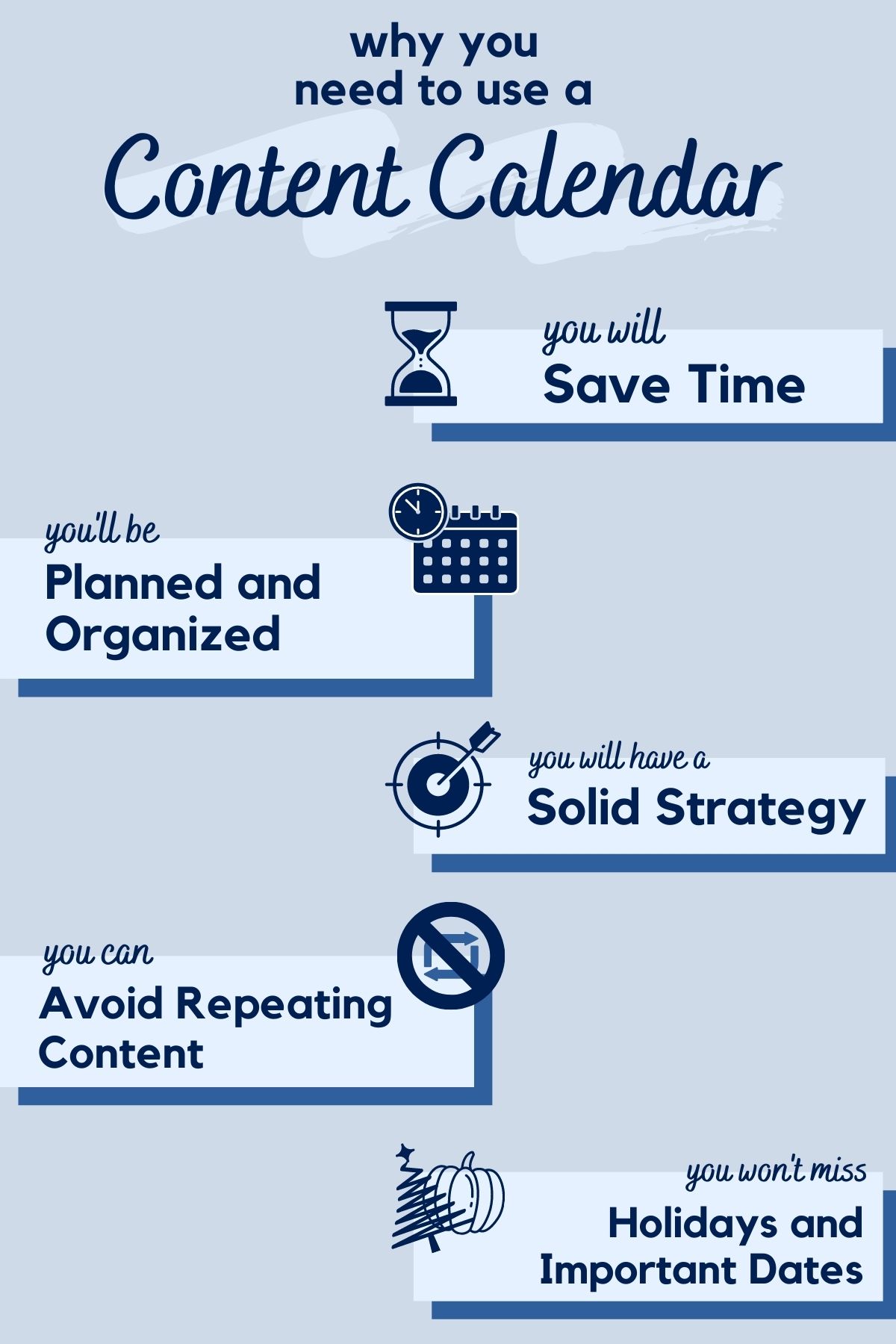 Here is a free content calendar download to get you started: 
Are looking to start your content calendar but don't have a social media strategy? We can help! Here is a guide to your social media strategy to help get you started.
Need more help with your digital marketing or social media planning? Contact us! We provide a variety of digital marketing services to help your business.