What Is a Social Media Marketing Strategy?
Having a social media marketing strategy is more important than ever in today's marketing landscape. Together with your traditional marketing plan, your social media marketing strategy could be what makes you stand out amongst your competitors. But what is a social media marketing strategy? A social media marketing strategy essentially is a plan that helps you use social media to accomplish your marketing and business goals.
Every social media plan is different, but all are built on the same foundation. Your plan should touch on both your business and marketing goals. It should have an audit of your social media accounts as well as information on how social media ties into your online/digital marketing strategy. And finally, you need to really detail your strategy.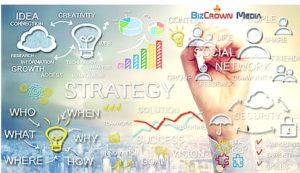 Let's break this down a little more.
Business Goals: It's important to note that your business goals are not and should not be your marketing goals. They are two separate things. Social media marketing goals should help you reach your business goals. For example, your overall business goal may be to increase methods of communication between staff. You can use your social media marketing goals to work towards your business goal by doing something as simple as connecting with your staff or customers through Facebook Messenger, as opposed to email. This way social media is being used a communications tool to enhance your business.
Marketing Goals: Your marketing strategies should help you determine how to use social media to accomplish your social media and overall marketing goals. To help you decide what your goals should be, you need to take a good look at your current state of marketing and think about how social media can fit into your overall marketing goals. While social media is not solely a marketing tool, it is a very essential one. It's one of the fastest ways to get your message out and one of the best ways to nurture a customer base.
Auditing Your Social Media Accounts: Before you can make any sort of goals, you need to know where you stand. Just like you balance a checkbook, you have to "balance" your social media accounts. How many subscribers do you have on Instagram? Facebook? Twitter? What is your average engagement rate? Knowing where you are helps you create a plan to set up your accounts properly, so they are better optimized and set up for success. Knowing what social media channels you should be posting on makes a huge difference. 
Social Media and Your Marketing Strategy: Think big picture! Your social media strategy should tie in to your overall marketing strategy. Just like a watch head, every gear works towards making something happen, even if it's as minuscule as moving the second hand. The same can be said about utilizing all of the different forms of marketing. Each technique and resource helps you to do one thing- be noticed. So, your social media should tie into your emails, print media, website, etc. Remember, you need many marketing touch points to keep your customers aware of your offerings.
Strategy: You have all the stats, you have a list of goals, but you still need a strategy to reach your goals. There are three main things that are important to creating a winning social media strategy: Content. Community. Consistency. Those are key to your social media marketing strategy. That's where BizCrown Media helps businesses excel.  Dr. Mayo, has assisted many businesses in creating effective social media plans. His doctorate research focused on social media as an effective tool for businesses and the research concluded that social media strategies that revolve around content, community and consistency are mostly effective. If you are providing great content consistently to a community, they will connect with you more as a business, which fosters brand loyalty and eventually ROI.
Build the foundation of your social media marketing strategy with these key ideas and you should be on the right path. Need a little more guidance? Contact BizCrown Media. We're here to help.